Creating our own Fibre Optic Internet Network
Plans to create an Ultra-Fast Internet Network in Michaelston-y-Fedw are progressing well. A new Community-based company, Michaelston-y-Fedw Internet, has been created to manage the project. The project is based on the highly successful B4RN scheme in the North of England (b4rn.org.uk). The network will provide connections with speeds up to 1,000Mbps over an Fibre Optic network. Currently only standard internet connections using the old telephone wires are available for most in the village with typical internet speeds of around 2 to 6 Mbps. So far 132 properties in the village and surrounding area have said they are interested in joining the network.
More information is available on the Michaelston-y-Fedw Internet website at myfi.wales.
---
The Queen's 90th Birthday Celebrations
Races in the Churchyard
---
Village Litter Pick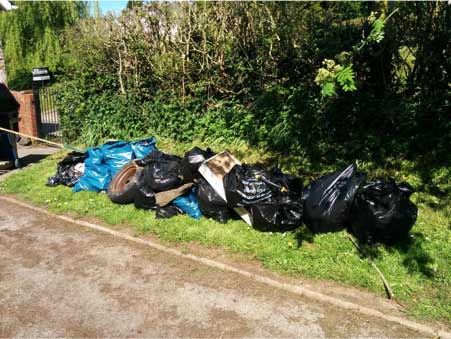 The village 'litter pick' took place on Sunday 26th April at the third attempt, when the weather finally decided to co-operate!
The 15 volunteers, armed with bin bags, fluorescent tabards, gloves and 'litterpicksticks', set out from the Village Hall at 12.30 and headed off to their designated areas.
We were amazed at how much litter there was. Drink cans and fast food containers where high on the list as were plastic bottles. However, a flip flop, a sock and a pair of trainers also turned up along with a complete car wheel with tyre and a sofa! In all, about a dozen large bags of rubbish were collected, and everyone returned to the Village Hall for a well-earned BBQ kindly provided by the Community Council. A very pleasant end to a worthwhile event, and many thanks to all who attended.
---
Defibrillator Installed at Village Hall
Following a lot of work from individuals in the village, the Village Hall and the Community Council, a Defibrillator has been installed at the Village Hall. It is mounted on the outside of the Village Hall next to the main entrance.

Presenting the new Defibrillator to the Village Hall. Left to Right:- Jerry Andrews (Welsh Ambulance Training Office), Julie Taylor (Chairman Michaelston Village Hall), Sharon Owen (Welsh Hearts), Counseller Gareth Davies.
---
New in Local Interest
Cefn Mably Arms - Recollection of a Family Pub
Landlords of the Cefn Mably Arms
Notes on the Kemeys Family of Cefn Mably (6.4Mb PDF File download)
Council Helpline
If you wish to report pot holes, flooding, make a complaint or simply an enquiry, the Council Helpline is 01633 656656.
Community Police Officer
PCSO Caroline Doidge can be reached on 07964 645148 or by email here.
For details of Mobile Police Stations please check the Gwent Police Website.
If you see any suspicious vehicles or individuals please call 101.
Free Honeybee Swarm Collection
For many years Gwent Beekeeper's Association has offered a free honeybee swarm collection and re-homing service for Torfaen, Monmouthshire, Newport, Blaenau Gwent, parts of Powys and Herefordshire.
We have a team of trained and insured beekeepers able to collect swarmed honeybees from reasonably accessible locations. If someone in your community should be troubled by a swarm, then please contact either Ken Key or Andrew Knapp on the numbers below.
North Gwent: Ken Key 01873 852512 kenkey@btinternet.com
South Gwent: Andrew Knapp 01600 860930 theknapps@live.co.uk

Unfortunately we are unable to deal with Wasps, Hornets or Bumblebees but please visit website http://bumblebeeconservation.org/ for further information on Bumblebee Conservation.